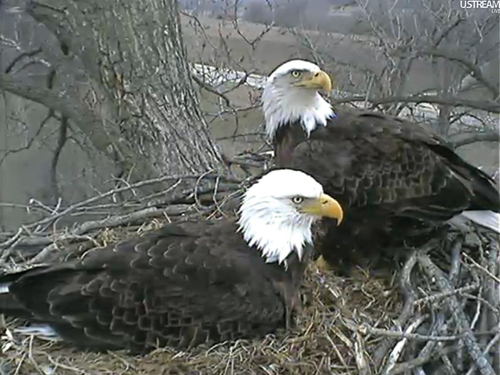 Meet the Decorah Eagles. This duo is the crown jewel of the Raptor Resource Project which

specializes in the preservation of falcons, eagles, ospreys, hawks, and owls. They create, improve, and directly maintain over 40 nests and nest sites, provide training in nest site creation and management, and develop innovations in nest site management and viewing that bring people closer to the natural world.
Through streaming video, we are able to observe the bald eagle during it most exciting time: nesting and hatching of the next generation! In late January, the eagles begin to ready their nests in preparation for their eggs. By mid-February to early March, the cameras go in for a close-up for a glimpse of a new eaglet hatchling!
Last year we were unable to view this amazing sight because the eagles had built a second nest and the RRP couldn't get a camera installed. It appears they are continuing to use the new nest this year and the cameras will be rolling!
Soar on over to UStream TV and check out the live feed from the nest. The feed is intermittent right now, but will be going to full time on February 17th. If an egg is laid prior to the 17th, they will begin filming immediately.
This is also a great time to let you know about the unit that I created to follow the Decorah Eagles! This unit teaches the kids about scientific observation, as well as, the bald eagle as a national symbol. The kids will love watching the eagles and we even do some great math and writing activities.
Perhaps my favorite is the final craft.
The kids write word acrostic poems and publish them with the uber-cute eagle peek-over, complete with wings! When you hang these in the hallway, people will certainly take notice!
This can be found at my
TpT
store. Currently, this unit is not Common Core aligned but I am working on it and will have an updated one posted soon!